Ole Bull Chamber Choir is a classic chamber choir from Bergen, Norway. The choir consists of singers dedicated to classical choral music with artistic leader and conductor Jon Flydal Blichfeldt.
Adventstid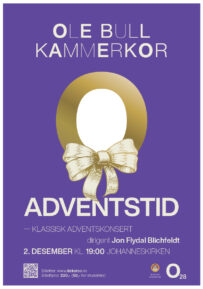 Welcome to a classical Christmas concert.
We present a variety of beautiful classical music written for the season, among others: 
O magnum mysterium (Francis Poulenc) 
Susanni (Richard Rodney Bennett)
Stars (Ēriks Ešenvalds)
Lux aurumque (Eric Whitacre)
Jeg synger julekvad (Fartein Valen)
Jul, jul, strålande jul (Gustaf Nordqvist) 
Eit barn er født i Betlehem (Ørjan Matre)
At the concert in Knarvik we also present the trombone player Ingeborg Fonnes Flaten, a student at Bergen Private Gymnas and member of Eikanger Bjørsvik Musikklag Youth.